So this year my son is taking home economics in school. When he first told me about this I kinda chuckled, thinking he would want to have the class changed. Well lo and behold he is enjoying it. I am hoping this new-found interest will roll over into him wanting to cook dinner a couple of nights a week. LOL (A mom can dream right? lol) So since he has become more interested in cooking I thought it would be a good idea to teach him some important facts about food safety. Some of the info I found even surprised me!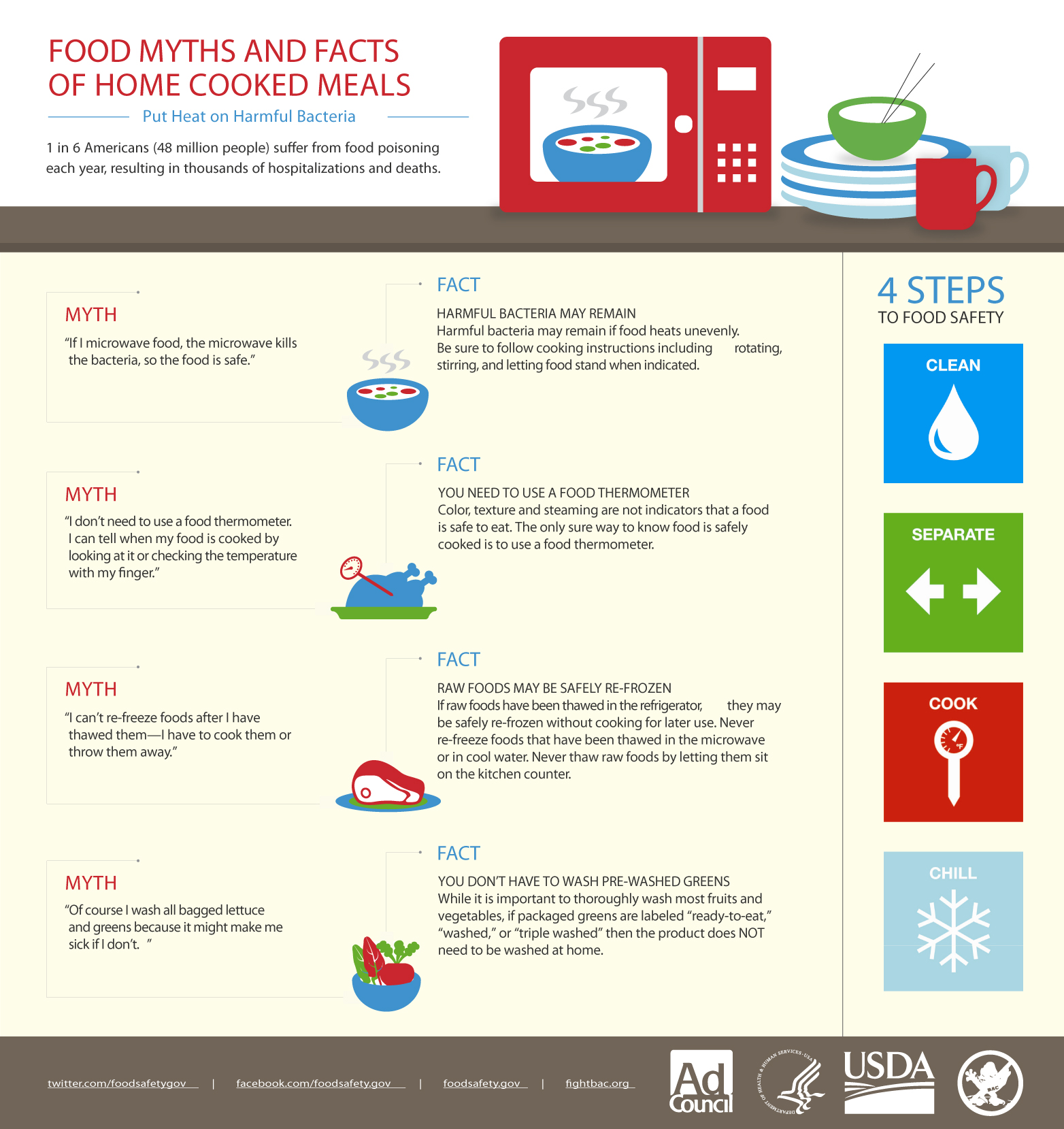 I have to tell you I was pretty surprised about the microwave not killing all bacteria. I mean I never thought that a microwave was the be all end all of making food safe but I kind of figure that if you microwaved it that it was ok to eat. I have rushed directions on boxes before and not stirred or rotated things I have put in there. However, now that I know that this can make you sick I will pay more attention and do what the directions say and remind my kids to do the same thing.  I was also REALLY surprised about the re-freezing myth. I have believed this one since I was little because that is what my Grandma told me. I bet I have thrown away like $500 worth of meet over the years because of this myth. Hopefully, now I can save money and educate my hubby to not throw away meet that I have left in the fridge.
EGG SAFETY
Something else I found while researching is that raw eggs can stay safe in your fridge for 3-5 weeks. Do you know how to tell when an egg has gone bad???  Well here is an easy way to check egg freshness. You can do this with you kids too.
Egg Freshness Test
Take the egg in question and place it in a bowl full of cold water then watch to see what the egg does.
Does the egg sink? Then it is a fresh egg.
Does the egg kinda balance at an angle? Then it is a week old
Does the egg stand up but still touch the bottom? Then the egg is 3 weeks old.
Does the egg FLOAT?? Then THROW IT AWAY!!! This is a sure sign that it is a rotten egg!!
Lunchbox Food Safety
For those of us that pack our children's lunches for school here are some helpful tips to keep your little ones healthy and safe at lunchtime.
The best lunch boxes to use are ones that are insulated and soft-sided. Be sure to use 2 cold sources when packing your little ones lunch. You can freeze sandwiches as long as they don't have mayonnaise, lettuce or tomato on them. What you can do is put the lettuce and tomato in a bagging and put in the lunchbox so they can add that later. The Mayo you can also put in another container or you can buy those mayo packs for them to put on their sandwich at lunch.
One of the best cold source option is to freeze your child's drink the night before. My little ones love bottled water so I freeze them and put them in their lunchbox. They will thaw slowly and keep their lunch cold. I also use the gel ice packs because they conform so much better than the hard packs.
Pet Food Safety
Another Food Safety issue I think is important is pet food! We have a cute little Dachshund names Ryder (Like as in Low Rider, Seriously I did not name him LOL) but he is a wet dog food loving pooch. I am sure many of you have pets too. Well if your pet eats canned food then here are some tips to keep your pet and you safe.
1. If you have any unused portion of food left in the can, transfer it to another container with a lid before putting it in the fridge.
2. Label the container if you aren't going to use it within 24 hours. Leftover canned food can stay safe in the fridge for 3 days tops.
3. If you have a small dog, you can use an ice tray to divide large cans into meals for your pet. Just fill the ice tray, cover with plastic wrap and freeze. Once frozen transfer to an airtight container. Frozen dog food will be safe for up to 8 months so be sure to label the container.
I hope that these safety tips will help you and your family stay happy and healthy. Be sure to check out FightBack.org and sign the Food Safe Families Action Pledge. You can also find valuable food safety info and activities to share with your kids of all ages. You can also check the USDA Food Safety site for more information.